Gallup, New Mexico is the Most Patriotic Town in America
For Gallup, New Mexico, patriotism runs deep. Generations of Gallup's citizens have served in the U.S. Armed Forces, in WWI, WWII, Korea, Vietnam, as well as the Gulf Wars and in Afghanistan. Some of these veterans have been made famous by movies like The Code Talkers or books like Forged in Fire, written by Gallup's Medal of Honor recipient - Hershey Miyamura. While these stories have captured national interest and international acclaim, all of Gallup's veterans are respected and revered for the sacrifices they have made for our country.
Veterans Helping Veterans – Brothers in Arms, a group founded by Vietnam veteran David Cuellar, is an example of the support provided to Gallup's community of veterans. The organization was formed as a way to share information and help other veterans with challenges like PTSD, other disabilities and adjusting to life after service. The group has steadily grown, and the help they provide has led to Gallup's veterans receiving the VA benefits they deserve. Cuellar told the Gallup Sun, "Of the group of 150 veterans who meet every other Friday, probably 90% of them have been designated with 100% disability. Once a veteran has been characterized with 70% disability, they are labeled as unemployable and will get benefits from the VA" – benefits that are critical for those living with a service-connected disability.
As a community, Gallup recognizes the sacrifices made by those who've served and the long-term impact it has had on their lives. On Veterans Day, the community gathers to honor veterans for their courageous service. There is a wreath ceremony, downtown parade and the placement of the flag while community members wave flags and salute marching veterans. Past keynote speakers have included U.S. Rep. Ben Ray Lujan. During the 2017 Veterans Day celebration, the flag was raised up a new flagpole that was erected at a high spot in town. The Gallup Sun reported on the event, quoting veterans like Dennis Gardner who said, "Oh, I'm thrilled about that flag … That denotes something to me that far surpasses other areas of being a veteran," he said. "I appreciate that flag and I'll fight for it anytime, for our nation, our families… it's just good to be a veteran."
The Veterans Day celebration is an important part of Gallup's community culture, but not the only way the community recognizes veterans. The city of Gallup has completed a series of individual column type monuments dedicated to the service men and women of McKinley County. The various pillars honor veterans of World War I, World War II, Korean War, Vietnam, Gulf Wars, the World War II Navajo Code Talkers and more. The plaza is located in historic downtown Gallup in front of the McKinley County Courthouse. Included in the memorial is a separate individual column solely dedicated to honor Hiroshi "Hershey" Miyamura, the only American of Japanese heritage in the Korean War to receive the nation's highest combat award, the Medal of Honor. Mr. Miyamura is a local hero currently living in Gallup.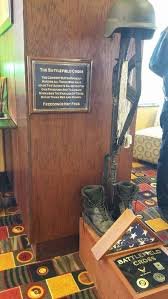 There are also places in town where visitors and locals can learn more about the area's military history. The Gallup-McKinley County Chamber of Commerce houses a small but fascinating display that honors the role Navajo Code Talkers played in securing an Allied victory in World War II. Navajo code talkers were integral to U.S. success in the Battle of Iwo Jima. To this day, this is the only oral military code never to have been decrypted. In addition, the Comfort Suites in Gallup has award-winning displays honoring our nation's military, veterans and families.The General Manager, Ken Riege, is a veteran and has spearheaded this project as a way to say thank you to local and visiting veterans.
The displays in the Comfort Suites are an example of how businesses and community members in Gallup take an active role in displaying their patriotism and gratitude for our country and those who have served. From annual events to monuments and daily displays of gratitude, there is a reason that Gallup, New Mexico has been named the Most Patriotic Small Town in America.
More Topics
Writer and Director Haroula Rose, of Lincolnwood, Ill. was at the Gallup Film Festival September 12-14.  Her film, Once Upon a River, based on Bonnie Jo Campbell's New York Times' 2011 best selling novel of the same name, was screened at 6pm on September 14. The film features actor Kenadi DelaCerna,...
SILVER CITY, N.M. – At the conclusion of Western New Mexico University's 25th annual basic rural economic development course, students presented prescriptive economic development strategies for three New Mexico communities – Doña Ana, Sierra and San Juan counties – to three of the top economic development minds in the state,...