Here Are the Most Innovative States in America
Here Are the Most Innovative States in America
Massachusetts, California take the top spots in Bloomberg's index
The Boston area's Route 128 eked out a victory over Silicon Valley, as Bloomberg's ranking of the most innovative states in the U.S. illustrates how universities can juice local economies.

Massachusetts is the most innovative state, with California scoring a close second and Washington, New Jersey and Connecticut rounding out the top five states, according to the data compiled by Bloomberg. Mississippi, West Virginia and South Dakota are the three least innovative states.

"You've got these major, world-ranked institutions that have played a big role in terms of churning out some very, very well-qualified, bright people," feeding an innovative atmosphere, said Nariman Behravesh, chief economist at IHS Inc. in Lexington, Massachusetts.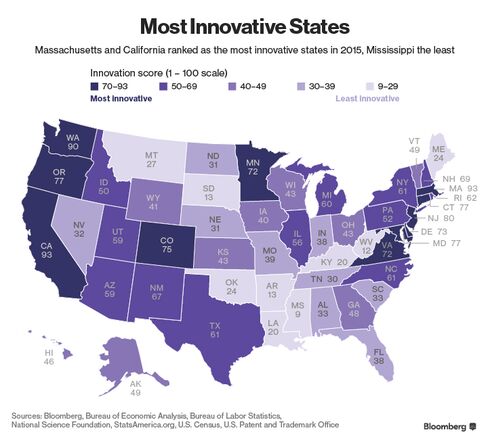 The Massachusetts Institute of Technology, Behravesh's alma mater, is one such school that's provided a ripple effect for the local economy, he said. MIT graduates have produced around 400 startup businesses over the past few decades, including Framingham, Massachusetts-based electronics maker Bose Corp., which then creates a "cluster" of companies that are attracted to the strong business environment and in turn propel the labor market and growth, he said.

"Innovation usually leads to job creation, and high-skilled job creation, mostly," Behravesh said. "But there are other jobs that come with it, namely, that as the labor force grows, they need haircuts, they need landscapers, all that stuff — so it does tend to have linkages to other parts of the economy."

Massachusetts was able to edge out California by 0.03 point, perhaps in part because high-tech density was measured via number of companies, rather than market capital. That meant that the world's most valuable company, Cupertino, California-based Apple Inc., couldn't lift the state to the top spot in the ranking.

No. 40 North Dakota, however, illustrates what happens when economic growth is concentrated in one industry. The crash in oil prices has hobbled the state and soured the business environment, which might have otherwise attracted more companies from other industries, Behravesh said. But states at the bottom of the ladder aren't doomed to weak growth and a lack of economic vitality.

"There are some things that state governments can do to make their states more attractive to research and development," including R&D tax credits, he said. "State governments — if they carefully target areas where they think they have a bit of a competitive advantage — they could develop a cluster around their universities, as well."

The Bloomberg U.S. Innovation Index scored each of the 50 states on a 0-100 scale across six equally weighted metrics: R&D intensity; productivity; high-tech density; concentration of science, technology, engineering and mathematics (STEM) employment; science and engineering degree holders; and patent activity.

The data also show the limits of measuring healthy innovation. For example, the migration of talent across state lines can be difficult to measure and often captured only on delay, such as through U.S. Census bureau figures.
More Topics
In 2015 Skorpios publicly disclosed $23 million in venture capital, including large investments from technology leaders Nokia Siemens Networks, Sweden's Ericcson and Deutsche Telekom of Germany. The company has also spent much of the year working on patents for its technology. Click here for the complete article.
This week's map shows the real value of $100 in each state. Prices for the same goods are often much cheaper in states like Missouri or Ohio than they are in states like New York or California. As a result, the same amount of cash can buy you comparatively more...
The New Mexico Jobs Council announced that it's drafting a bill for a comprehensive study on the state's broadband needs — about $950,000 in appropriations to fund the effort.