SBDC at UNM Gallup recognizes red rock security & patrol as center's star client
24 Oct 2017
Awards and Recognition
FOR IMMEDIATE RELEASE
October 23, 2017
Gallup, New Mexico– Red Rock Security & Patrol, LLC was founded in 2013 in Gallup. The company provides armed and unarmed security services for corporate and government facilities. Beyond Gallup, Red Rock Security & Patrol has now expanded into the Albuquerque, Alamogordo, and Grants areas. The company has grown quickly from a six-person department into now employing 30 full-time and 60 part-time security professionals.
Each year, the statewide offices of the New Mexico Small Business Development Center Network along with the International Business Accelerator and the Procurement Technical Assistance Program select individual clients from their respective service regions as outstanding examples of entrepreneurship and small business management. Red Rock Security & Patrol, LLC is an exceptionally successful locally owned business, one that the NMSBDC is proud to recognize formally in 2018 during the NMSBDC Day at the Legislature.
Matt and Geri Hughbanks launched their business at the right time. With a rising crime rate, compounded by harsh economic issues, and a driving need for more security services, Red Rock Security & Patrol, LLC has developed their team with an attitude of professionalism upheld by a practice of safety first with frequent, planned training, compliance, verification, and quality assurance.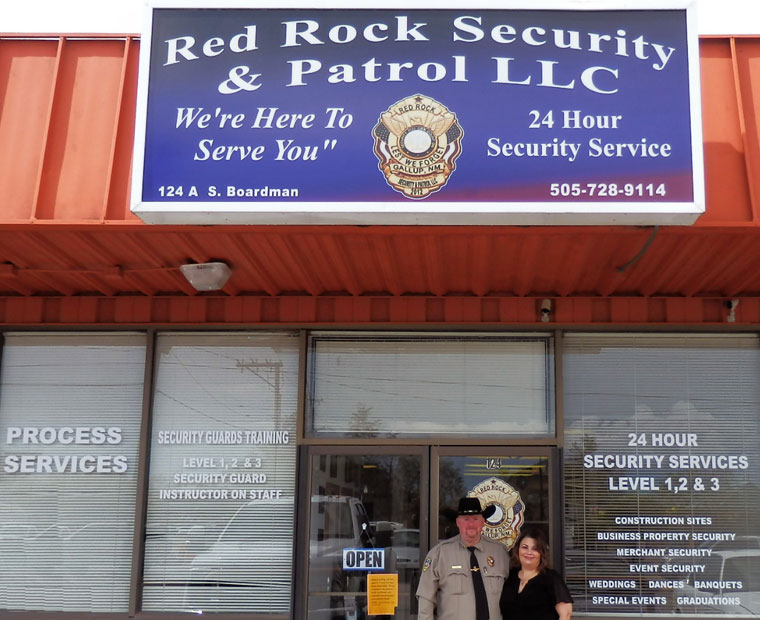 Matt is a former career deputy sheriff; a Lieutenant with impressive credentials and a long career of proven past performance in domestic operations and training (SWAT, interviews and interrogation, criminal investigations, weapons training, and instructor). Matt is also a certified trainer through the New Mexico Private Investigations Board, New Mexico Department of Public Safety and National Rifle Association. Geri is currently Judicial Manager of the New Mexico 11th Judicial District Court and has worked there for over twenty years in different capacities. This family knows the law.
However, when they started out, they knew that they needed advice about growing their own business and turned to the Gallup Small Business Development Center. The NMSBDC is there for those starting or expanding their own businesses, offering advice and training that covers business plans, marketing, hiring, financing and so much more.
Matt has good advice for other entrepreneurs: "Make sure to research and tap into local resources such as your local SBDC. Ask yourself; do you have a niche or a service that is better or different? Make sure that your business does something no one else does, or does it better; and that there is a market demand for your product or service." NMSBDC has the tools and experience to help other local businesses grow like Red Rock Security & Patrol, LLC.
"If you have a supportive family, you can do anything; we did, and looking forward to continuing it." And they are, as this successful business is now establishing a new business focused on training for Level I, Level II, and Level III Security Officers. We wish them continued success.
FOR MORE INFORMATION, CONTACT: http://www.nmsbdc.org
###
Contact
Cyndi Jarvison
505-722-2220
cjarvison@unm.edu
www.nmsbdc.org